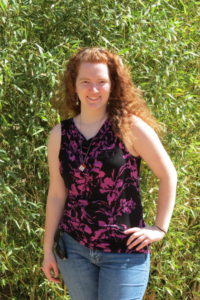 Born and raised in north Texas, Andrea Renee Cox is a born-again child of God who writes stories that inspire, copyedits manuscripts, tutors middle school students, and enjoys family road trips. Whether she's working on historical or contemporary, women's fiction or romance, she uses skills in research and writing techniques—as well as prayer and guidance from God—to produce the best stories of her ability.
Faith and family are integral to Andrea. She accepted Jesus Christ as her personal Savior at age seven, and her central aim is to serve God in whatever fashion He desires. Her parents raised her to be compassionate and honorable, as well as to cherish every moment. Some of her favorite memories are adventuring through the United States with her parents and younger sister.
There are a plethora of things Andrea finds fascinating. Since she was a little girl, foreign and domestic accents have intrigued her (the late Sir Sean Connery's Scottish lilt started it all!). Other interests include world geography, English bulldogs, old-fashioned ideals, weather science, and oldies and contemporary Christian music.
She finds inspiration in the chivalrous gentlemen and gumption-filled women of vintage films, modern-day action and adventure flicks, and true-story and romance movies. In addition, she learns from novels written by Elaine Schulte, Gilbert Morris, Kim Vogel Sawyer, Tracie Peterson, Sarah Sundin, Kathryn Cushman, and Christina Suzann Nelson, among many others.
Throughout her grade-school days, Andrea attended public, private, and home schools. After graduation, she earned business and interior design certificates from Penn Foster. Though she's dabbled in many different jobs, her dream is to write full time.
Andrea has held the title of copy editor since 2013. She's edited for large and small publishing houses as well as independently published authors. Many of the books she's worked on have received critical acclaim and prestigious awards. Her editing services are recommended by award-winning authors, doctors, and attorneys.
Following in her parents' footsteps, Andrea began penning screenplays in October 2003. Her passion for writing increased when she discovered her creativity thrived in the lengthier style of manuscripts. Mostly self-taught, she has learned much from her editing experience, various forms of entertainment, and thousands of conversations with professionals in her field.
One of her screenplays received a contest judge's compliment that the lead role would "challenge an actress straight through the award season." A TV pilot teleplay made the Quarter Finals of the 2016-17 Fresh Voices Screenplay Competition and was nominated for "Best Role Written for a Leading Man."
In 2011, Andrea founded Writing to Inspire, a blog on which she's published hundreds of articles. Over a dozen complimentary short stories are available on her website, and others have been published in anthology collections.
Her writing features emotionally rich stories that inspire and entertain. She is often drawn to themes of redemption, amnesia, hope, friendship, family, and overcoming life's struggles with faith in God.
For many years, Andrea has mentored fellow writers with dreams of publication. In 2021, she founded Write In Faith Camp (WIF Camp). During its first year, she hosted writers from twenty-two states and provinces in six countries across three continents.
wild blue wonder press anthologies