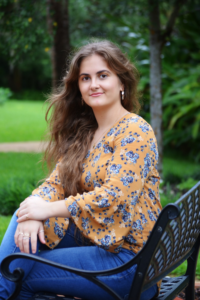 Grace A. Johnson is a Christian indie authoress, homeschool grad, and certified marketing manager, who's been enchanted with words and the worlds they create since she was four years old. 
At age ten, Grace's love for mysteries, fantasy, and teenage spies overcame her hatred for writing, and she put pencil to paper for the first time and began penning stories about secret agent girls and Sunday School secrets (don't ask). When she picked up The Golden Braid by Melanie Dickerson, she fell head-over-heels in love, and that's when she felt God calling her to be a writer. Her silly notepad stories morphed over time into fantastical medieval romances and epic pirate adventures, until the day she finished her second novel and decided to give publishing a shot. One rejection was all it took for her to turn her sights onto self-publishing, and at the age of thirteen, she hit the publish button and Held Captive—a Christian pirate romance novel—was released into the world. 
Back in those days (which makes her sound like an elderly lady), she was inspired by the wonder of creating the same kind of books she loved to read. Now, she's motivated by God's calling to fill our world with beautiful stories that uplift readers and edify Him through romance that reflects Christ's love and plots that entertain and intrigue! She writes romance novels full of grit and grace. Her main series is the Daughters of the Seven Seas series, which follows a female pirate captain on a voyage of redemption, romance, and lots of piratical mayhem. She's also written a variety of short stories that showcase her love for inspiring arcs of faith, passionate romance, purple prose, and intriguing plots and settings, as well as a thirty-day devotional on working out your own salvation, as described in Philippians 2:12. Her current project is set during the aftermath of 9/11 and follows one young woman's journey through grief, lost hope, and new love!
Grace is in love with history, etymology (the study of words; not to be confused with entomology, the study of insects), Jane Austen, art, homemaking, biblical femininity, and music—and when she's not writing, you can find her reading, designing graphics and websites, snapping photos of books, journaling, baking bread, and rocking out to her favorite bands. Some of her favorite authors, which have influenced her writing over the years, are Jane Austen, Julie Lessman, Roseanna M. White, Laura Frantz, Joanna Davidson Politano, Karen Witemeyer, Kellyn Roth, and Tamara Leigh.
Armed with her small business marketing certification and years of experience, Grace intends to launch her own small press in the fall of 2023. In the meantime, she loves working with young and aspiring authors as an editor with S&J Editors, marketer, or mentor!
She lives in beautiful (but humid) South Georgia, surrounded by farmland and forestry (and not as close to the beach as she'd like), with her parents and six younger siblings. Her dream is to be a wife and a mother, follow the Spirit to the mission field, and inspire other young writers to reach for the sky!
wild blue wonder press anthologies
daughters of the seven seas