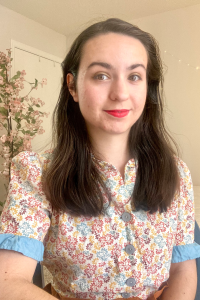 Meet Bailey Gaines, a southern girl with a love for the past, dark chocolate, and Celtic history!
Bailey first began writing at age fifteen, retelling Robin Hood. Since then, she's gone on to study writing at Oxford University for a semester and become a founding member of the Author Conservatory, a college alternative for serious young writers. Since joining the Conservatory in 2020, she has drafted 2 novels, 1 novella, and will be contributing to one of the Author Conservatory's short story anthologies.
Through her writing, Bailey longs to show the healing God can bring and has brought to people all throughout history, in the vein of popular Christian historical fiction authors like Regina Jennings, Roseanna M. White, and Jannette Oke. Most of her stories revolve around redemption, reconciliation, and the realization that we are valuable not because of what we can do, but because of the inherent value we have as humans created in God's image.
Bailey enjoys reading historical fiction with a unique flavor, like works by Rosemary Sutcliff and Roseanna M. White, and The Outlaws of Sherwood by Robin McKinley! She also loves Robin Hood (if you haven't guessed that yet!), researching historical facts, wearing vintage clothing and doing vintage hairstyles, or making her own clothes.
Bailey has her bachelor's in English and received a department-wide award for creative writing in college! With her writing prowess, she has given peer critiques in a thoughtful and helpful way to retain the heart of a story while strengthening it, and utilized this experience in her work with Kellyn Roth's former business Reveries Co. to provide editing and proofreading services to other authors.
She hopes to participate in both indie and traditional publishing, using the strong network she's been blessed with as part of the Author Conservatory. Her goal is for her writing to either supplement her job or be a side hustle as she raises a family, or even be a sustainable career in the future!