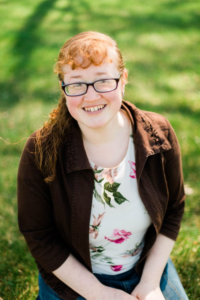 Faith Blum has published many books, most of them in the Christian Historical Fiction genre with a special emphasis on Western fiction and now, WWI stories. Her stories usually feature a little bit of adventure with a light romance subplot. She loves stories because they can teach history, but in a fun way. It is also her way to have a creative outlet while taking care of her household and toddler. She's blessed to write as a part time career and engage in other entrepreneurial efforts.
Faith has been a proud small town resident her whole life and wouldn't have it any other way. She lives in Central Wisconsin with her husband, energetic three-year-old, and cat, Smokey. Faith doesn't particularly like historical movies and would prefer watching movies from the Marvel Cinematic Universe, partially because most historical movies are focused more on a romance story than the actual history and therefore aren't as interesting to her.
Faith also enjoys making sourdough and as well as cooking gluten-free and corn-free meals. On Instagram, she shares her thoughts on creating a healthy and natural lifestyle at Faithful Living.
Faith's first novel was indie published in November 2013, and since then, she has released over thirty novel and  novellas. You can find her books on most eBook retailers, including her Hymns of the West series and companion novellas, Orphans of the West series and companion novellas, Tales of the East series, and her miscellaneous short stories. She received a Reader's Choice Honorable Mention for Amazing Grace and participated in two series': the Librarians of Willow Hollow and the Matchmaker's Mix-Up.
When not writing, you can find her cooking from scratch, reading, figuring out social media content, or spending time with her family. She also loves playing piano for church and being part of the Author Conservatory. In addition, she does some freelance work, which you can find out more about on her services page. She currently offers virtual assistant help, graphic design, and writing lessons.

wild blue wonder press anthologies
Published with Wild Blue Wonder Press
short stories and novellas