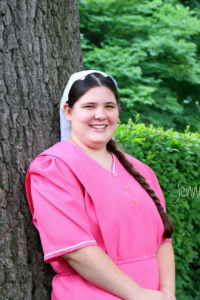 Rachel Leitch is a blossoming young writer of historical fiction and fantasy. She lives in northern Indiana with her parents, five younger siblings, and a Great Pyrenese/Labrador mix that thinks every story is about him. When she's not hiding away writing, she's trying to fit all her books on her shelf in a somewhat organized manner, rambling through history, daydreaming at the piano, or teaching elementary students to be just as bookish as she is.
Rachel has been writing since a very young age, but began pursuing a career in writing when she was fourteen, when her mother pointed out to her that people do actually write for a living. Her mother encouraged her to continue writing despite the opinions of others and reminded her that her book would go where God designed it to go. This precious advice has kept Rachel going as she's written seven practice projects and two novels, which she's currently pitching. 
In 2021, Rachel endured a very dark time, and that was when she picked up Shadow by Kara Swanson. The book met her where she was and brought light. That is what she wants her stories to be to anyone who is hurting, whether they fit in a traditional Christian audience or not. Like Kara Swanson, Rachel loves writing Young Adult fiction, especially historical, with a dash of adventure, a spark of magic, or a dusting of both. She longs to uplift readers just like her favorite novels uplift her, through reminding them that everyone has something valuable to bring to the world.
Along with Kara Swanson's Heirs of Neverland series, Rachel loves novels by Jocelyn Green, Roseanna M. White, Nadine Brandes, Hope Ann, and Caroline George. When she's not reading or writing, she enjoys playing piano, taking walks with her dog, shopping for books, and drinking chai tea.
Rachel is a homeschool graduate who studied professional writing and now works as a paraprofessional, teaching elementary school kids to be just as bookish as she is. She also serves the bookish community as a staff member of Kingdom Pen and continues her studies through Young Writer's Workshop. She was the 2021 winner of Story Embers' Annual Short Story Contest and the 2022 winner of Kingdom Pen's Dragon Slayer Article Contest, and she'll make her debut in the Indie Authors Association's anthology Scars in May 2023.
Rachel wants to bring the Father of light into the darkest and most chaotic places of life. She wants to remind readers that they are seen, they are heard, and they have something to say. She wants to be the person that simply sits with them in the hard for however long it takes, and to reach out to all those who need hope. She's pitching two projects that embody these desires and hopes to be traditionally published soon and begin a full-time writing career. Until then, she continues to work as a parapro and spend time with her family!